Zoom Link : Technical Sessions on 11.11.2022
Zoom Link : Technical Sessions on 11.11.2022
Trincomalee Campus
Eastern University of Sri Lanka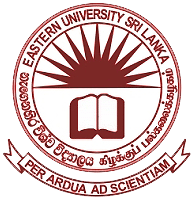 The Trincomalee Campus is a higher educational institution that functions under the Eastern University, Sri Lanka, located between the North-East coastal belt and the Nilaveli Road. Being a player in higher education at the regional and national level and shaping the human resources for a better future; Trincomalee Campus has the potential to excel as a world-class university in the near future developing its strength in teaching, learning, and research.
The 5th International Research Conference (TRInCo-2022) is scheduled to be held at Trincomalee Campus on 09-12 November 2022 under the theme of "Ideology towards Renaissance"
The crossroads in each millennium holds new challenges where life-furtherance activities become pivotal at this liminal juncture so as to leap in good faith creating a viable space that is inclusive of all, so as to create a future in the footholds of Justice, Equality, and Peace.  In order to fulfill the dreams of a better future, it is essential that all endeavors in form of Sciences, Social Sciences, Humanities, Arts, and Fine Arts are imbibed with ideologies that promote life furtherance, in order to reach a true holistic Renaissance.
Thus, ideology becomes not only the essence that shapes a nation but also the one that shapes and forms the personal life-world here and now.  At this juncture, we remember that the past has taught us that the ideology of annihilation will only propagate negativity into play leading to the destruction of the self and the other in the long run due to its exclusiveness.  Therefore, an inclusive life-furthering ideology is the need of the hour.
Extended Abstract Submission
It is proposed to facilitate a visit to the nearest tourist locations like Trincomalee Natural Harbour, Fort Frederick, Koneswaram Kovil, Eagles' Golf Links, Marble Bay, Kanniya Hot Wells, Nilaveli Beach, Pigeon Island, Welgam Vihara etc. after the conference. Interested foreign delegates may kindly contact the conference secretariat in advance.